On June 5, 2019,  T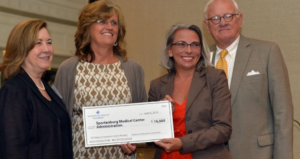 he Spartanburg Regional Foundation awarded Fifty Upstate with a generous grant of $16,880 to go toward healthcare transportation of the fifty plus community.
Statistically, 1 in 5 seniors do not drive. Illness, strokes, mobility issues, failing eyesight, etc. result in the loss of the ability to drive. Many end up "trapped" in their homes, dependent upon family and friends or costly taxi services for transportation to medical appointments. Family/ friends are not always available to assist– nor can all seniors afford to pay out of pocket for transportation. "Round Trip" will provide free transportation to medical/health facilities for adults age 50-59 in Spartanburg Co. who are physically and/or financially unable to obtain transportation. Fifty Upstate's proposed Pilot Program: "Round Trip" will partner with Spartanburg Regional Transportation to provide safe, reliable round-trip transportation services, free of charge to the clients.
"Round Trip" drivers will build trust, develop friendships and provide an extra level of comfort with the client as they transport them to medical/dental appointments, outpatient surgeries and dialysis treatments."Round Trip" will ease the frustration many seniors, and their family members, experience once the senior loses their independence.  "Round Trip" will empower seniors when it comes to getting out and about in Spartanburg for medical/health appointments.
This new program will not only benefit seniors in need of a ride, but also allow friends and family members to have peace of mind and sustain their work schedules, improving productivity in the workplace and the County.
For more photos and information on the grants awarded by the Spartanburg Regional Foundation please visit the link below.
https://www.goupstate.com/photogallery/NC/20190605/PHOTOGALLERY/605009992/PH/1